Roller screws help Wymbs Engineering improve productivity and increase return on investment
In the culinary world, there is an expression: you eat with your eyes first. Exquisite, eye-pleasing dishes and confectionary can either help make a sale in a bakery or add a good level of panache to a meal in a restaurant. At Wymbs Engineering Ltd., they believe this also to be true. In the world of large-batch and mass production, the creation of similarly appealing artisan products relies incredibly heavily on a machine's design.
10% productivity increase
Managing Director Brendan Wymbs founded the company thirty years ago from a small fabrication workshop in Stockport, north-west England, servicing and upgrading 'worn out' machinery in the bakery and confectionery industries. Today, Wymbs Engineering plays a leading role as manufacturers of a unique range of pressurised, manifold depositing systems, as well as customised processing lines for the chilled foods sector, such as cream doughnuts and chocolate éclairs, to name a few.
"
By using the latest Solid Works AutoCAD software in our design office and employing
several multi-axis CNC machines for production, the ability to design
and manufacture 'in-house' has been key to our continued success.
"
Brendan Wymbs – Managing Director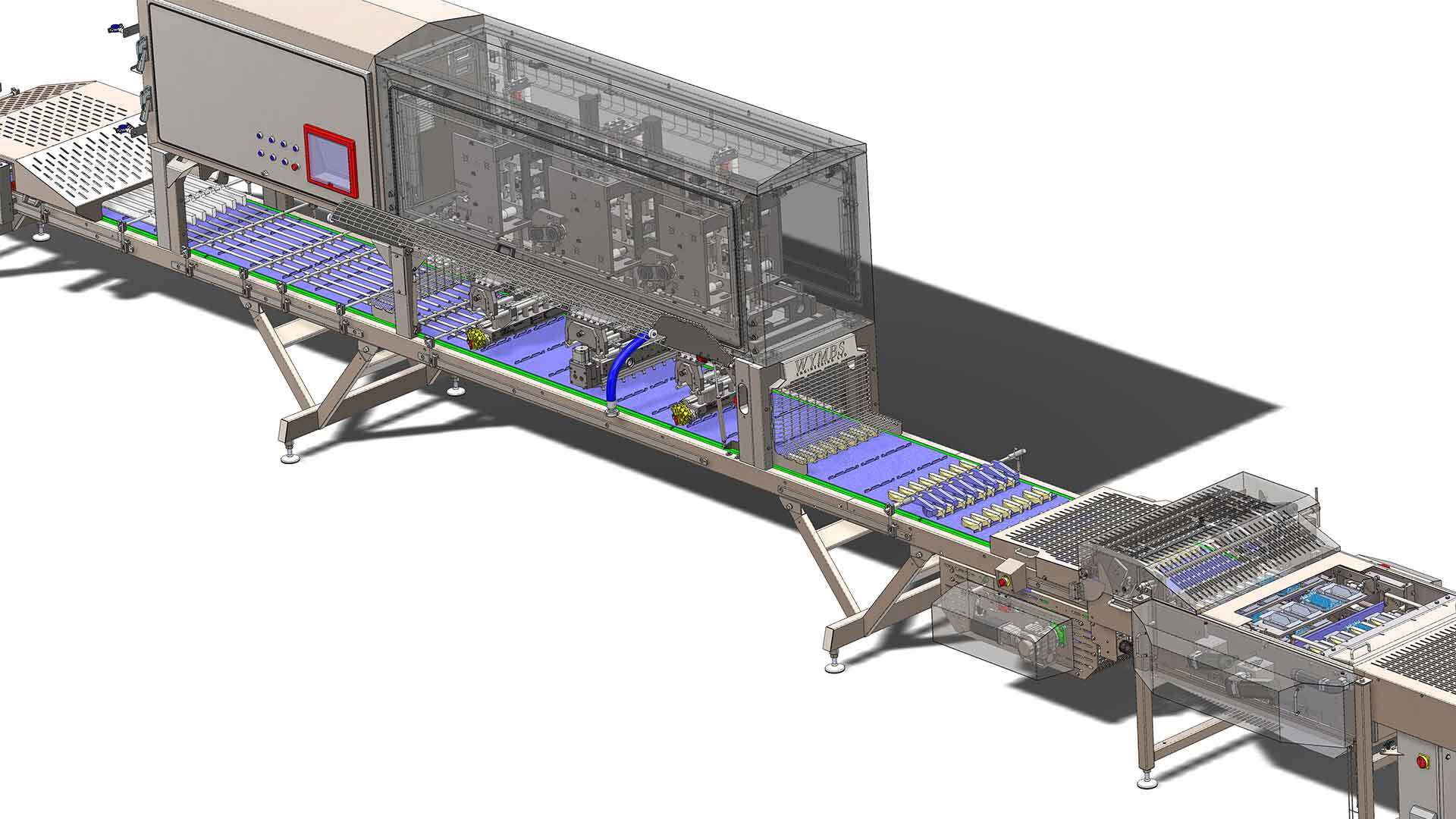 Why does Wymbs Engineering use Ewellix products in their machines?
Wymbs Engineering has had a long relationship with Ewellix, and the ball screw used in some of their older machines needed to be upgraded with something longer lasting and with a higher load capacity. "In 2016, we installed a machine (the UDS) that was depositing 756,000 dough drops every hour on a travelling band, and this ran at up to 50 cyc/min. We had good results, but the life of the Z-axis ball screw was approximately 8-10 months, explained Brendan. So, we set Ewellix for a challenge! We needed to upgrade an existing design depositor to go one third faster than the previous one".
Brendan asked us to develop a solution as they were installing a new line and looking at improving the existing ball screw design. "The new design had to deposit 831,000 dough drops per hour (75,600 more than the previous machine) and still give extended life on the Z-axis," he said. The suggestion made by Ewellix was their roller screw SRC 30x5 arrangement because the distance travelled was not enough for a standard ball screw to recirculate the balls and grease.
"We now have a 10% increase in the number of dough drops per hour, better longevity, and obviously, a better return on our investment."
About Wymbs Engineering Ltd.
Wymbs Engineering Limited is a family business founded some thirty years ago by Managing Director Brendan Wymbs. The company has grown to occupy a leading role today as manufacturers of a unique range of pressurised manifold depositing systems and customised processing lines for the chilled foods sector. They are based in Stockport in the North West of England, only a thirty-five-minute drive from Manchester airport. With a healthy market established at home, Wymbs exports 70% of its turnover to as far afield as China, Brazil, Australia, USA, Japan, South Africa, Mexico and throughout Western and Central Europe. All these markets are supported with a dedicated and diligent agent network that can immediately respond to inquiries in 'local' time zones.
Our products are used in thousands of industrial applications
Read more