Technology that's out of this world
A HEXAPOD is a parallel kinematics system made up of six struts to provide motion and accuracy for positioning in the Six Degrees of Freedom (6 DOF). In 1949, V. Eric Gough, an engineer at Dunlop in England, built a parallel mechanism to test tyres under different loads. A few years later, in 1965, D. Stewart began using a variant of the hexapod for flight simulators. Today, SYMETRIE has developed this technology to become one of the world's leading providers of hexapod solutions for positioning and motion applications.
Founded in 2001 by Olivier Lapierre and Thierry Roux, and situated in the historic city of Nimes, France, their design and research department produces high-tech positioning and movement systems designed to meet the most demanding industrial and research laboratory criteria's.
Higher dynamic performance with precise positioning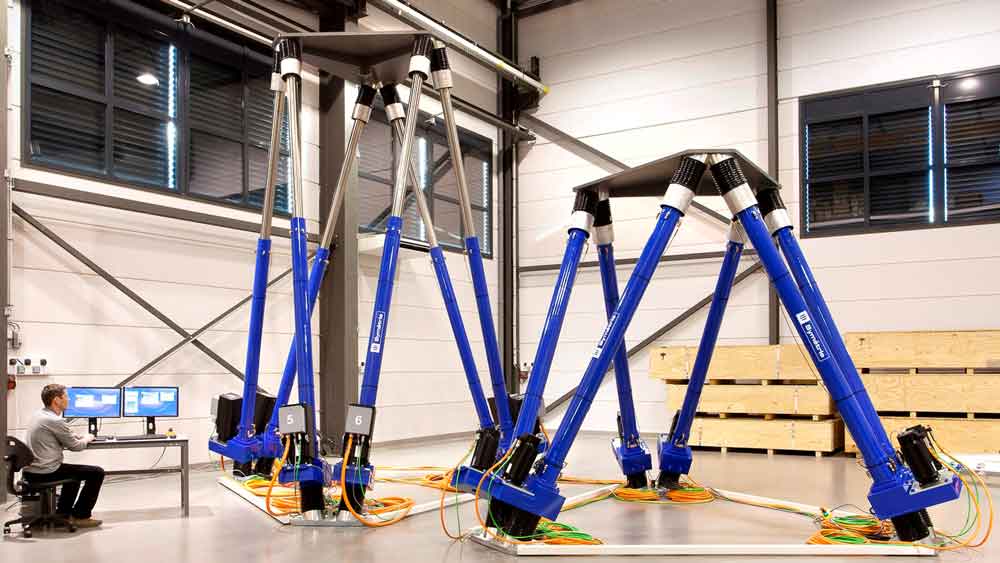 "
Because a hexapod robot consists of a top platform, a bottom platform and six highly efficient electric actuators that link the two platforms with its payload mounted on top,
we needed to source actuators that have a high peak thrust and low backlashes that allow high fidelity motion with low tracking errors.
"
Olivier Lapierre – President
Credits: GTT – Patrick Sagnes
High-performance actuators from Ewellix were up to the challenge
"When deciding on the best supplier to meet our dynamic needs, we were looking for exceptional quality and customisation possibilities. It was for these reasons that we chose Ewellix as our preferred supplier," says Thierry Roux, CTO at SYMETRIE. Our customers want highly dynamic performances that are mainly unachievable using standard electric actuators; Ewellix, however, agreed to develop a customised solution. Nobody else was able to offer such high-performance actuators. Their excellent technical support and close working relationship with our customers are essential elements that have cemented and strengthened our partnership over the years".
Ewellix has a wide range of customised high-performance actuators that are tailor-made to meet the customer's specific needs. The heavy-duty actuators are designed for constant motion, low to high force and usually high speeds that can perform many cycles during service life. These products offer extreme positioning accuracy and controllability ranging from high load capacities, fast operating speeds, quietest possible operation, and aesthetic elegance. A strong understanding of linear and actuation technologies enables Ewellix to create new solutions based on proven processes enabling precise motion control with loads from a few kilos up to 50 tons.
"
Ewellix continually offers more and more powerful actuators, close to achievable mechanical limits.
Because of our mutual trust in each other, we are now co-developing a new generation of actuators
to reach even higher performances within a limited budget, adds Olivier Lapierre. For example,
vehicle simulators help our customers save money due to the high cost of outdoor testing of boats, cars and planes.
Hexapods also have a higher reproducibility compared to real outdoor testing.
As a result, our customers' R&D teams can work in a more efficient and cost-saving way with our high-performance tests bench.
"
About SYMETRIE
SYMETRIE is a global leader in the manufacture of hexapods. With over twenty years of experience supplying the worlds defence, naval, optical, space and research industries, the company has grown from strength to strength. SYMETRIE currently employs forty skilled technicians based at their headquarters in the South of France and have recently won the 'Ambassador's Gala' award for Industry Challenge.
Need more
information?
Ask our experts.